The great martial arts Master Chen Pan Ling.
Biography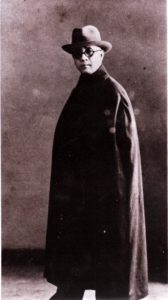 Chen Pan Ling was born in1892 ,is an educator and a martial artist. He graduated from Peking University in 1921. He founded education, committed to irrigation work . He has a great contribution to the country, often receive government awards, medals. He spent his entire life studying and teaching Chinese martial arts. He specializes in four kinds of martial arts: Shao Lin , Xing Yi, Bagua, and Tai Ji. During the 1939's, he was involved in the Central Guoshu Institute as a vice president and chaired a committee charged with collecting traditional martial arts and developing standardized forms and practices. Edited more than fifty kinds of textbooks, wall charts for more than fourty pieces, in fact, unprecedented in the history of martial arts.
   Chen Pan Ling spent the remainder of his life in Taiwan where he was considered one of the preeminent masters of his generation. Until his death at 77 in 1967, Chen Pan Ling was without doubt more knowledgeable on the principles, rationale, and practice of Chinese Martial Artst. He deserves our respect and remembrance.
Chen Pan Ling's teachers included as follows:
Shaolin :

Bagua:

 The creator is Dong Hai Chun, Dong passed on Liu Feng Chun and Cheng Ting Hua . Cheng Ting Hua passed on Cheng Hai Ting, Tong Lian Ji and Cheng Hai . Ting passed on Chen Pan Ling , Tong's teather is unknow.

 Xingyi:

 Liu Qi Lan passed on Geng Ji Shan, Li Cun Yi and Tong Lian Ji's teacher . Geng Ji Shan passed on Liu Cai Chen , Li Cun Yi, Tong Lian Ji and Liu Cai Chen passed on Chen Pan Ling.

 Taiji :

 Yang Lou Chan passed on Yang Jian Hou, Yang Ban Hou and Quan You, Yang Jian Hou passed on Xu Yu Sheng, Yang Shao Hou and Ji De, Quan You passed on Wu Jian Quan, they passed on Chen Pan Ling. He refine the essence of "Chen" "Yang" "Wu" "Hao" "Wu" five Taiji denominations, referred to as Chen Pan Ling's 99 Forms. loved by people.