日本九九恊会
Welcome to Chen Pan Ling World Family!
From Chen XiaoYi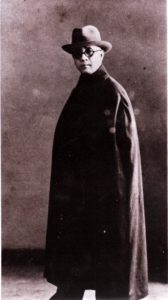 The Tai-Chi martial arts are broad and profound. They enphasize Chinese Taoism and Confucianism, essence reconcile, and most importantly, the Taiji virtue.
My grandfather, Chen Pan Ling, took this as a heritage purposes throughout his lifetime. Thanks for the worldwide enthusiasts and supporters to promote and carry it forward.
The goal of the Chen Pan Ling World Family Website is to become the home of the Taiji martial artists family, and each family member can take part in this platform and exchange their learnings. I hope developing my grandfather's martial spirit and virtue, in order to let Taiji martial arts spread long and far.、
 武術博大精深,講究中國道儒思想,精氣調和.以及武德傳揚. 先祖父
陳泮嶺(Chen Pan Ling)畢生以此為傳承宗旨,承蒙世界各地同好愛戴學習及發揚.陳泮嶺世界家族(Chen Pan Ling World Family) 網站,期許成為各地愛好太極武術的家,每個家族成員都能在此平台交流學習,真正以發揚先祖父的武德倫理精神為目的,使太極武術能夠源遠流傳.
 太極拳武術は広く奥深いもので、中国の道教や儒教の思想を究め、精気を整え、もって武徳を称揚します。 祖父陳泮嶺は生涯その太極拳の思想を伝え、世界 各地の同好の人々の学習、発揚の啓蒙を行ってきました。
陳泮嶺世界家族ネットが各地の太極拳武術愛好家が集う家となり、全ての家族メンバーがこのサイト上で交流、学習でき、祖父の武徳倫理精神を発揚することにより太極拳武術が広く伝承されることを願っております。
Information
2021年5月12日
We are looking for you, Inner door students ! If you have ever had Bai Shi by Master Chen, please contact us! …
2017年4月11日 Coming Events
Sanya World Tai Chi Culture Festival combines Tai Chi competitions, demonstrations by masters of various schools of martial arts, lectures, workshops, martial arts photo exhibition, as well as calligraphy exhibition. This year, the festival will also feature performances of the Chen Panling 99 Tai Chi Form, as well as panel discussions to be participated by various renowned martial arts masters in remembrance of Grandmaster Chen Panling.